CHOOSE YOUR OWN ADVENTURES.
Our guests have access to a wide variety of tours and adventures to experience the untouched, wild side of Costa Rica.

DEEP-SEA FISHING
Jacó Beach has become an increasingly significant deep-sea sport fishing center due to its location at the midpoint between the sport fishing centers of Quepos to the south and Flamingo to the north. We are ideally located to catch the seasonal fish migrations north and south.
The nearby Los Sueños Marina attracts a fleet of world-class fishing boat captains, as well as a smaller fleet of experienced local fishermen. Both inshore and offshore sport fishing charters are available.
Inshore sport fishing charters:
Fish near the scenic beaches, cliffs and rock formations of Costa Rica's Central Pacific coast for an abundance of local species such as roosterfish, mackerel, cubera snapper, African pompano and more.
Offshore sport fishing charters:
Fish the blue waters of Costa Rica's Central Pacific coast for black marlin, blue marlin, striped marlin, sailfish, dorado (mahi-mahi), yellowfin tuna, wahoo and more.

Rainforest Aerial Tram
The Central Pacific Rainforest Aerial Tram is a unique treetop experience. Glide through the canopy of a dense, tropical rainforest in a gondola to see a tumbling 40-foot waterfall, giant rainforest trees and marvel at panoramic views of the Pacific Ocean. This hour-long experience includes visits to the beautiful Butterfly Garden and the fascinating Medicinal Plants Garden. Guests are accompanied by bilingual guides to ensure you get the most out of your experience.

Zip Line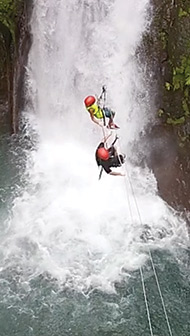 The Zip Line is a spectacular eco-adventure tour that provides a unique experience in the canopy of the tropical forest. Spend two hours zipping over cables as high as 120 feet above the ground, experiencing a bird's eye view of the rainforest canopy, which is home to an estimated 60 percent of rainforest species! The Zip Line tour is located just outside Jacó. Transportation to and from Club Del Mar is provided as part of the excursion package.

HORSEBACK RIDING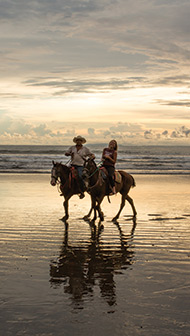 Take a leisurely horseback ride through Costa Rica's rainforest for an up-close and personal view of Costa Rican tropical plants and wildlife. All horses are well-trained, and you can expect all saddles and equipment are professionally maintained, too. Tours last approximately two and a half hours. Tours include no more than six people, a bilingual guide and fresh, fruit salad and drinks.
ATV TOUR
ATV tours are an exciting and fun way to see the wild side of Costa Rica. This tour is designed to be an enjoyable and challenging outdoor adventure into the rainforest. We'll climb past several great look-out points with views of Costa Rica's most popular beaches and their surroundings. Next, we'll wind down rainforest trails as we descend toward the world-famous surfing beach, Playa Hermosa, before returning to Jacó. Tours are available in a variety of lengths from two to seven hours.

MANUEL ANTONIO NATIONAL PARK TOUR
Manuel Antonio National Park is Costa Rica's most famous and most visited national parks. It comprises a small, forested area, heavily populated by monkeys, sloths and coatimundi, as well as three exceptionally beautiful white-sand beaches. It is one of the few remaining areas in the world where squirrel monkeys are found. Trails wind through the forest, which is dominated by bastard cedar, balsa and mangrove swamps. Truly a tropical paradise, the beaches are fringed with tall coconut palms.

CARARA NATIONAL PARK & BIOLOGICAL RESERVE TOUR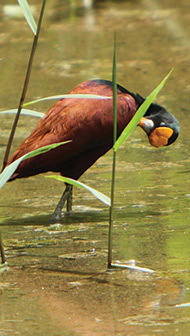 Carara National Park & Biological Reserve bridge the dry, tropical forest and the wetter regions to the south. It is laced by countless rivers, including the Tárcoles. During the rainy season, the Tárcoles floods its banks, creating a large lagoon that quickly fills with beautiful and fragrant water hyacinth. You can often see crocodiles and caimans, alongside coatimundi, peccaries, white-headed capuchin, howler and spider monkeys, and the rare, two-toed sloth. Carara is one of the few remaining nesting areas for the scarlet macaw. Throughout the day, the macaws can be heard and often seen in flight. The tour also features a great variety of exotic plant life, including fabulous heliconias.

Tortuga Catamaran Cruises
A Tortuga catamaran cruise is a perfect paradise of white sandy beaches, swaying palms and sapphire blue water with marine life. Tortuga Island is an ideal stop to swim, snorkel or bask in the sunshine. The island is accessible from Costa Rica's main cities via an exciting scenic boat ride across the Gulf of Nicoya with a chance to see Dolphin & the occasional whale. The cruise includes a delicious Lunch with tropical drinks, soft drinks, fresh fruit and snorkeling, there are hiking trails to the top of the island, wildlife & opportunities for banana boat rides.  An entire day of fun for the family!